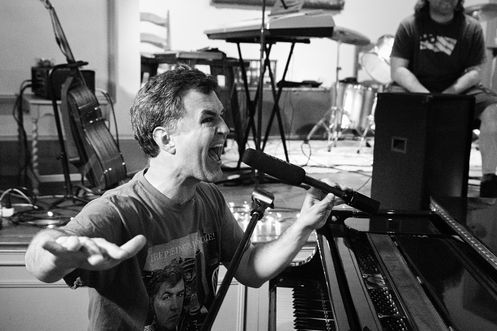 Motern Ganza - Saturday, September 3, 2022
featuring the 10th anniversary screening of Don't Let The Riverbeast Get You! followed by several hours of music performances by Matt Farley with The Motern Manly Band.
5:00pm: doors open
5:30pm:  movie screening
7:30pm: concert
Concert details:
7:30-9:00: fun party songs!  dancing encouraged!
9:00-9:45: Matt Farley solo piano/vocals set
9:45-11:00: Full band "After Hours" set.  Playing songs for the real fans who have dug deep into the Motern Media catalogue!
This party is an endurance test!   Can you handle being entertained by Matt Farley for 6 hours?  Will he outlast you? 
The Motern Ganza takes place at a secret location near Danvers, MA. 
Tickets are FREE!  
Just email moternmusic@hotmail.com to reserve a spot.  After you've reserved your spot, you will be informed of the exact location of the event!
Motern Extravaganza 2023
Motern Extravaganza will be Saturday, June 3, 2023 from noon until 10pm.
We will screen 2 movies during the event.   One will be a brand-new movie!  It's a sequel to one of our previous movies.  But we won't tell you which one!  The other screening will probably be Slingshot Cops.
The Extravaganza will also feature at least 3 sets from Matt Farley, Tom Scalzo, Chris "Pete" Peterson and Doug Brennan.  They hope to play more than 75 songs throughout the day!
It will be held at a secret location in New Hampshire, within 25-minutes of Hampton Beach.  You'll be told of the exact location after you purchase the tickets.
On the morning after the show, Matt Farley will spend at least 6 hours at Hampton Beach, and encourages anyone to meet him there to hang out!
Tickets on sale in September.
Click here to join the mailing list for info on this and other shows!