ORDER EXTRAVAGANZA TICKETS WITH THIS PAYPAL BUTTON
MOTERN EXTRAVAGANZA 2023
Saturday, May 20, 2023 from 2pm-11pm.
We will start the day with 2 movies screenings.   One will be the world premiere of Boston Johnny.  The other will be the world premiere of a secret sequel we are currently making.   We won't announce the title of the sequel until the moment we begin screening it!
The Extravaganza will also feature at least 75 songs from The Motern Manly Band, including an epic dance set!
It will be held at a secret location in Massachusetts, North of Boston.  You'll be told of the exact location after you purchase the tickets.
Beach Party:  On the morning after the show, Matt Farley will spend at least 6 hours at Hampton Beach, and encourages anyone to meet him there to hang out!
Tickets are just $25 each! : There are options to add tips if you want to.  (Matt has lost thousands of dollars hosting these annual events!)
Discounts:  Discounts are available for anyone who has attended the show for 2 or more consecutive years.   To claim your discount, please email Matt at moternmusic@hotmail.com.  See details below.
No refunds: This purchase is for the 2023 show only.   If you are unable to use it, you cannot put the money toward a future show.  You can just consider it a donation to a cool event!
After you purchase your ticket, you will receive an email receipt with information on the venue.  Please allow up to 36 hours for the email to arrive.  
This is a long event, and you're not expected to stay for all 9 hours.  It's ok if you just come for the movies, or just come for the music, or if you come and go throughout the day!
Click here to join the mailing list for info on this and other shows!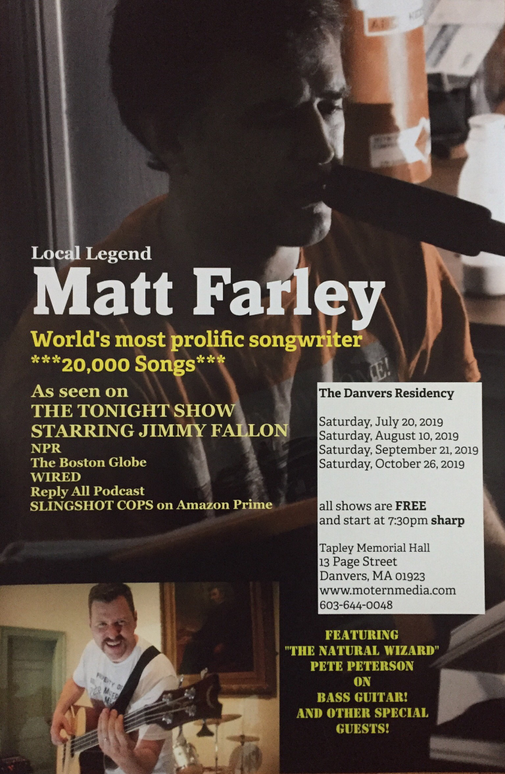 Consecutive Year discounts:
2nd consecutive year attending the show: 25% discount
3rd consecutive year attending the show: 50% discount
4th consecutive year attending the show: 75% discount
5th consecutive year attending the show: 100% discount
6th consecutive year attending the show: 75% discount
7th consecutive year attending the show: 50% discount