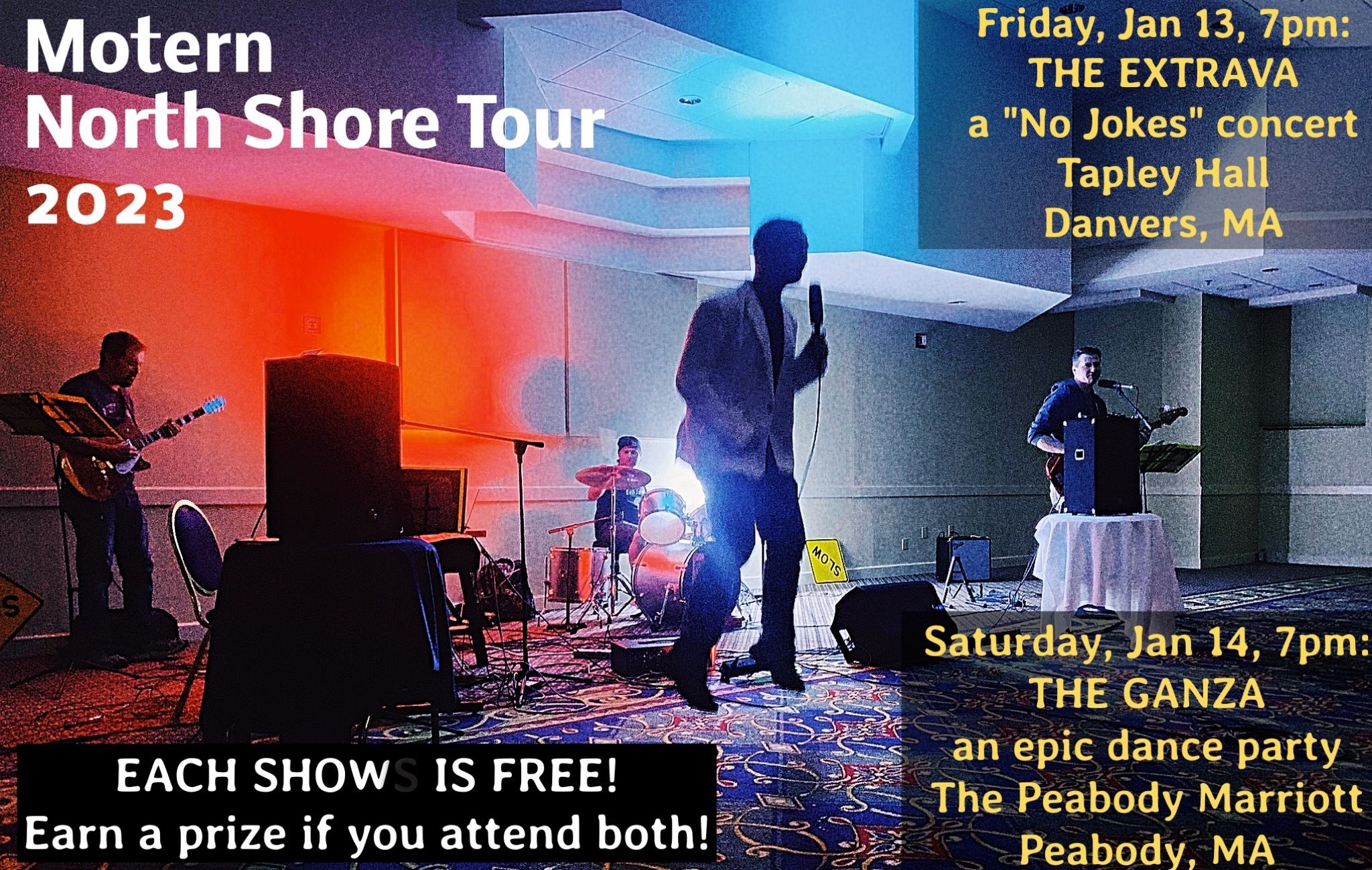 The North Shore Tour 2023
FRIDAY, JANUARY 13th: The Extrava
The Extrava will be the first ever Motern "No Jokes" concert.  The set list will be filled with songs by Moes Haven, The Big Heist, Projection From the Side, Brennan McFarley, The Finklestinks, Matt Motern Manly Man, etc.  
Doors at 6:30pm.   Show at 7pm at Tapley Hall, 13 Page Street, Danvers, MA
 
SATURDAY, JANUARY 14: The Ganza
The Ganza will be an epic 2-hour dance party to all your favorite wild and crazy Motern songs, followed by an "After Hours" set.
Doors at 6:30pm.  Show at 7pm at The Peabody Marriott, 8A Centennial Drive, Peabody, MA
Motern Extravaganza 2023
Motern Extravaganza will be Saturday, May 20, 2023 from 2pm-11pm.
We plan to screen 2 movies during the event.   One will be a brand-new movie!  It's a sequel to one of our previous movies.  But we won't tell you which one!  The other movie will be one of our older titles.
The Extravaganza will also feature at least 75 songs from Matt Farley, Tom Scalzo, Chris "Pete" Peterson and Doug "Froggy" Brennan, including an epic dance set!
It will be held at a secret location in Massachusetts, North of Boston.  You'll be told of the exact location after you purchase the tickets.
On the morning after the show, Matt Farley will spend at least 6 hours at Hampton Beach, and encourages anyone to meet him there to hang out!
Tickets are just $25 each!
Matt Farley loses over a thousand dollars on this even every year.  So this year, there's an option to add a tip if you want to.   No pressure!  But if you can afford to pay a little extra, it will go a long way in making sure this event continues to happen every year.
Discounts:  Discounts are available for anyone who has attended the show for 2 or more consecutive years.   To claim your discount, please email Matt at moternmusic@hotmail.com.  See details below.
No refunds: This purchase is for the 2023 show only.   If you are unable to use it, you cannot put the money toward a future show.  You can just consider it a donation to a cool event!
After you purchase your ticket, you will receive an email receipt with information on the venue.  Please allow up to 36 hours for the email to arrive.  
Consecutive Year discounts:
2nd consecutive year attending the show: 25% discount
3rd consecutive year attending the show: 50% discount
4th consecutive year attending the show: 75% discount
5th consecutive year attending the show: 100% discount
6th consecutive year attending the show: 75% discount
7th consecutive year attending the show: 50% discount
Click here to join the mailing list for info on this and other shows!